JTCC is excited to announce that on June 13th, we will be expanding to Potomac, Maryland! In partnership with Winston Churchill High School, JTCC is kicking off the long-term partnership by sponsoring custom Churchill and JTCC branded windscreens for the school's six courts.
This summer, JTCC will be launching its Champs Summer Tennis Camp at Winston Churchill High School. The camp caters to players ages 11–18 looking to taste what JTCC's high-performance has to offer. With the help of our world-class coaches and training methods, we can't wait to start sharing our knowledge and expertise.
Key highlights of Champs Camp include:  
4:1 Ratios With Top-Notch High-Performance Coaches
24 Players Per Session Means Quality Court Time for All
Focus on Singles and Doubles Match Strategy
Tennis Specific Mental and Physical Conditioning
FUN—Promote Sportsmanship, Comradery, and Community!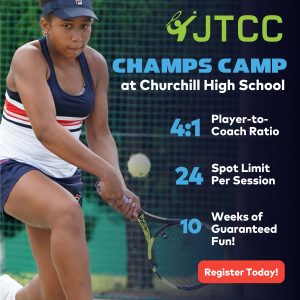 The 10-week Champs Tennis Camp runs from June 13th through August 26th with morning, afternoon, and full-day options. Our approach has always been about developing well-rounded individuals, not just tennis champions, which sets us apart from other high-performance programs. Mentorship, fitness training, mental conditioning, and tennis training go hand in hand. JTCC's High-Performance program led by only the best coaches gives players the confidence to trust their training!
As JTCC begins its partnership journey with Winston Churchill High School, JTCC will expand its tennis programming to all age and skill levels.
CLICK HERE to learn more about and register for JTCC's Champs Summer Tennis Camp in Potomac, Maryland. Receive a 10% Early Bird discount if you register before March 15. Register for three or more weeks and receive a 10% discount!