A hush fell over the crowd as Bill Ackman prepared to serve to JTCC alumna Robin Montgomery. Facing each other at the net, prepared to strike, were the former world #1 doubles star Richey Reneberg and the current world #52 singles standout Frances Tiafoe.
The Pershing Square founder and CEO cracked a serve out wide, acing the newly crowned 2021 US Open Junior singles and doubles champion, and the crowd of more than 500 attending the Pershing Square Center Court dedication at JTCC on September 17 immediately erupted in cheers. Montgomery, Tiafoe, and Reneberg stood dumbfounded. Tiafoe then turned to Ackman and jested, "Bill, be honest, that's probably the best serve you've ever hit in your life!"
Prior to exhibition play to inaugurate the new center court, the packed stadium of tennis fans welcomed Prince George's County Executive Angela Alsobrooks, who was joined by Prince George's County Council member Dannielle Glaros and Maryland-National Capital Park and Planning Commission chair and Prince George's County Planning Board member Elizabeth Hewlett. The three county officials spoke highly of JTCC and its mission of "Tennis for Everybody."
Bill Ackman, the generous donor of the Pershing Square Center Court, which has a capacity of 480 spectators, spoke about his close connection with JTCC. Ackman sponsored Tiafoe and Montgomery as juniors when they were training full-time at JTCC, allowing them to prepare for and travel to tournaments without financial stress.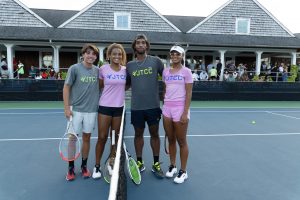 The event featured a thrilling 15-point super tiebreak with Ackman, Montgomery, Reneberg, and Tiafoe followed by an exciting singles match between Tiafoe and Andrew Fenty, currently a senior playing #1 singles and doubles for the University of Michigan and was named NCAA Freshman of the Year in 2019. Other matches featured JTCC General Manager of Player Development and former world #20 doubles star Megan Moulton-Levy competing with JTCC rising stars Ryan Colby, Adithya Ganesan, Aqeela Malik, and Cindy Zhao.
The evening concluded with a social hour for adults, and tennis clinics and activities on court for kids.
Photos courtesy of Michael Bonfigli