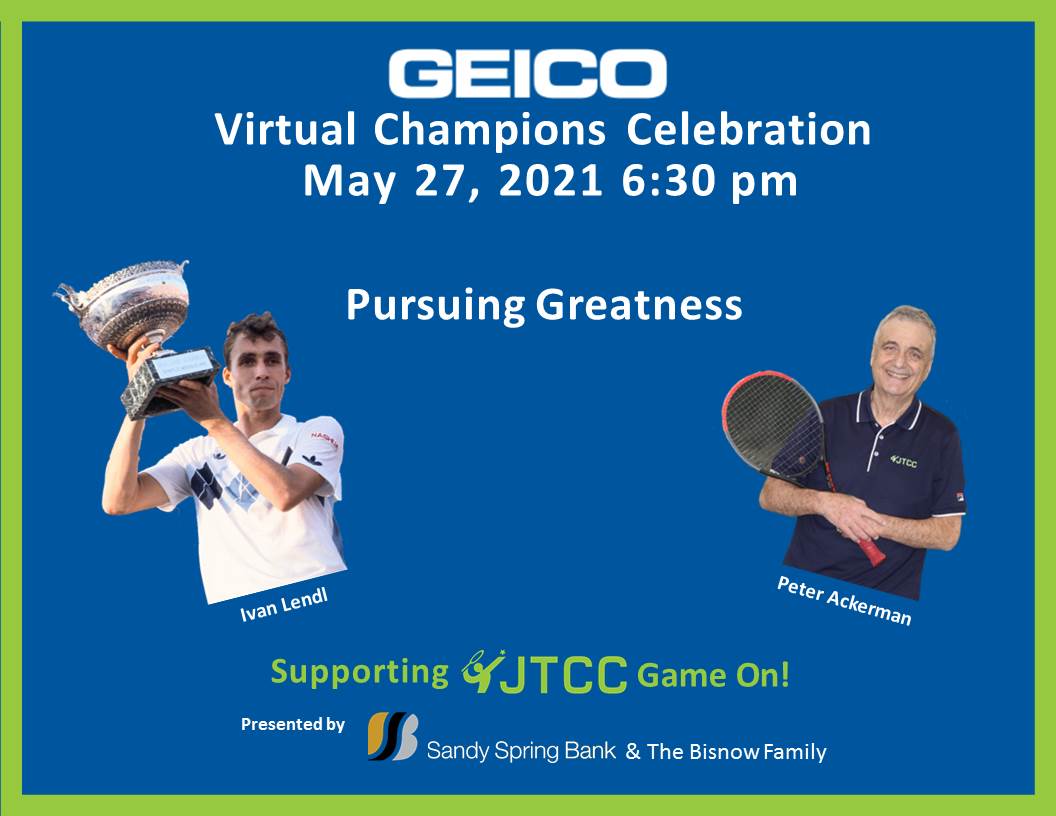 Dear JTCC Supporter:
We are excited to announce that the 2021 GEICO Champions Celebration presented by Sandy Spring Bank will be a virtual event again this year promoting JTCC's mission of "Pursuing Greatness" on and off the court.
Please join us on Thursday, May 27 from 6:30 – 7:15 pm to honor eight-time Grand Slam winner Ivan Lendl and JTCC supporter Peter Ackerman, Chairman of the JTCC Board of Directors-both of whom are stellar examples of the work ethic and persistence that is essential for exemplary achievement.
The GEICO Champions Celebration is being held during the French Open which is not coincidental. Personifying "Pursuing Greatness," Ivan won the 1984 French Open after coming from two sets down to defeat John McEnroe. In his Hall of Fame career, Ivan ultimately won three French Opens and a total of eight Grand Slams spending 270 weeks ranked world #1 and winning 94 ATP titles.
Making the timing of our gala even more propitious, our emcee Mary Carillo, who will be broadcasting the French Open for NBC, won the 1977 French Open mixed doubles with the aforementioned John McEnroe. Mary will also be covering the 2020 Tokyo Olympics for NBC. She was inducted into the Sports Broadcasting Hall of Fame in 2018.
Peter Ackerman, a widely acclaimed Wall Street investor, has been a stalwart supporter and serves as Chairman of JTCC. He is the Managing Director of Rockport Capital and is well known for his tenacity in business while at the same time being recognized for his philanthropy. Since joining the JTCC Board of Directors, Peter has been instrumental in JTCC's continued growth.
Our major annual gala continues to support JTCC's GEICO Game On! community outreach program in the District of Columbia. More than 3,000 children have been introduced to tennis in the GEICO Game On! program since its inception in 2009. Most recently, consistent with our theme of "Pursuing Greatness,"16-year-old Robin Montgomery, who is a product of the JTCC GEICO Game On! program, received a main draw wild card into the 2020 US Open!
In this time of continuing uncertainty where JTCC programs continue to make a major positive impact for under-resourced youth, JTCC would greatly appreciate your engagement and asks that you consider becoming a sponsor of the 2021 GEICO Champions Celebration.
Please take a moment to review the sponsorship packages which include US Open tickets along with other benefits such as merchandise and instruction. As a 501(c) (3) nonprofit, JTCC is committed to transforming lives through tennis in the Washington metropolitan area. Your contribution is tax deductible to the extent permitted by law.
On behalf of our entire team at JTCC, we are grateful for your support and look forward to an uplifting evening on May 27.
Sincerely,
Ray Benton
CEO