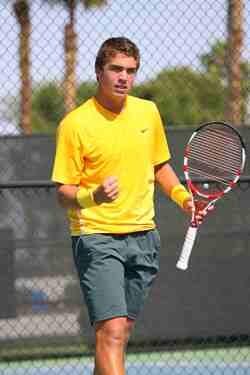 No. 3 seed Luca Corinteli (pictured above) of the Junior Tennis Champions Center defeated No. 1 seed Noah Rubin earlier today to advance to the finals of the Easter Bowl Boys' 18 singles division.
After a tense first set (7-6), Corinteli made quick work in the second frame (6-1).  It may have been an issue of stamina for the No. 1 seed.  Rubin was unable to work on his game in the eight weeks leading up to the Easter Bowl as he was recovering from a broken right wrist.  The cast was removed a mere week before the tournament commenced.
Corinteli will face unseeded Gregory (Gage) Brymer in the finale tomorrow at Noon (PST).  Brymer upset No. 5 seed and Corinteli's doubles partner Martin Redlicki, 3-6, 6-2, 6-3.  Despite the unseeded status, Brymer has title credentials.  He won the Easter Bowl 16 Boys' singles division in 2011.