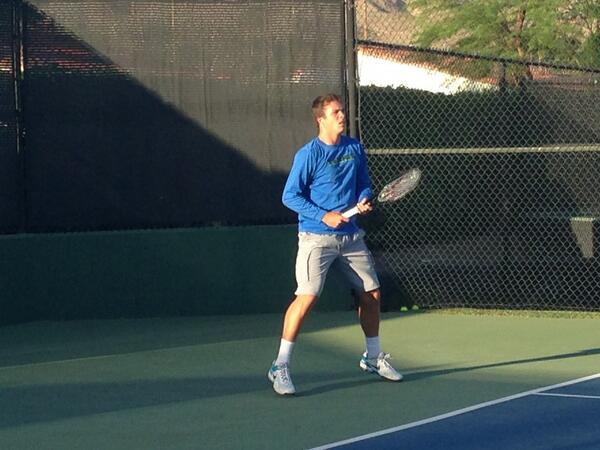 Luca Corinteli (pictured above) has advanced to the Semifinals in the Boys' 18 and under division of the Easter Bowl ITF Championships in Palm Springs, California.
Corinteli, the No. 3 seed, fended off unseeded Ernesto Escobedo, 6-1, 6-4.  He will take on No. 1 seed Noah Rubin of New York in a Semifinal showdown today at Noon (PST).  Rubin finished in third place in the Boys' 14 and under division in 2012.
In the other Semifinal, unseeded Gregory Garcia is pitted against No. 5 seed Martin Redlicki.  Redlicki needed three sets to upset the No. 2 seed Mackenzie McDonald (6-2, 3-6, 6-2).  McDonald will look to exact some revenge when he faces No. 1 seed Redlicki and Corintelli in a Semifinal doubles match up to be played today at 4:00 PM (PST).
On the other half of the Boys' 18 doubles bracket, Francis Tiafoe and Jordi Arconada (both JTCC players) were on a collision course to meet one another in the Semifinals.  However, the upstart and unseeded duo of Robbie Bellamy and Joseph DiGiulio dashed those hopes by upsetting the No. 3 seed Tiafoe and partner Michael Mmoh, 6-2, 6-4.  Arconada and Spencer Papa, the No. 2 seed, escaped with a 7-5, 6-4 victory against Gregory Garcia and Tyler Lu.  Arconada and Papa will meet Bellamy and DiGiulio at 4:00 PM (PST) today.